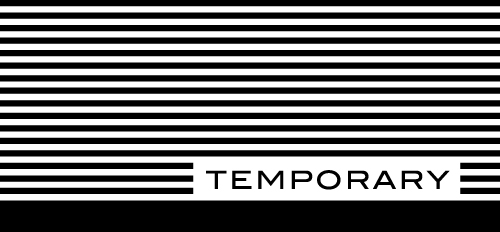 Temporary Art Review is a platform for contemporary art criticism that focuses on alternative spaces and critical exchange among disparate art communities. Artistic strategies are increasingly diverse and there is unprecedented fluidity between the various roles individuals inhabit as artists, critics, curators, collaborators and collectives. Temporary Art Review traces these temporary alliances and strategies, providing a record of their development and presenting critical discussion around the projects that emerge.
Temporary Art Review was founded in the Midwest with a national network of contributors, and decentralizes the conversation about contemporary practice by emphasizing the breadth of projects taking place outside of traditional art centers. Temporary offers an alternative perspective from regionally organized contributors, serves as a resource for the greater art community and highlights both practical and theoretical discourse through exhibition reviews, interviews, essays and features on artist-run spaces and projects.
>Co-founded with James McAnally in coordination with The Luminary Center for the Arts.
---

Many Mini Residency is a short-term residency program operated in conjunction with alternative exhibition venues in Europe and the United States. The name 'Many Mini' encompasses two main components of the project which is hosted in one room 24 hours a day for one week. The 'Many' describes the open call for proposals and the resulting multiplicity of responses and participants. The 'Mini' component of the residency describes the limited amount of time available and the scale of the room.
Many Mini Residency is open to applicants from all disciplines (art and non-art alike) and encourages participants to customize their residency experience. There is no minimum time-limit for a stay at the residency but the maximum stay allows use of the space for half a day. The space may be used for public programs, personal studio time, a rehearsal space, a dinner, or whatever the resident sees fit. Participants provide documentation and a short statement about their time spent in the residency to serve as both a record and a resource displayed online as the final component of the project.
Many Mini Residency: Berlin was hosted by The Berlin Office in July 2008, Many Mini Residency: Houston was hosted at Skydive Art Space in July 2011, and Many Mini Residency: Copenhagen hosted by Koh-i-noor in January 2012. Many Mini Residency, therefore, not only provides an opportunity for interaction among participants within each locale, but creates a comparable portrait of current artistic practices in each international city where it occurs.
>Co-organized with Ryan Thayer.
---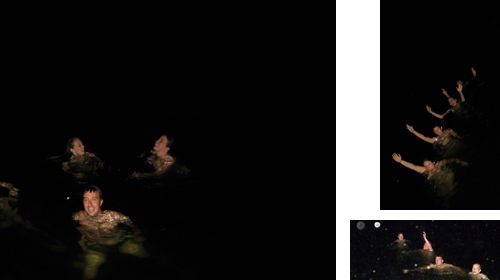 ADD-Art: Developer, Homesteader-Lake Expo
"Add-Art frees internet real estate from advertising, allowing the odd-shaped lots flanking the content of any given web page to be repurposed by the artist. In Developer, Homesteader, nine artists and architects consider these small segmented digital spaces as vacant areas awaiting design, development, or habitation." -Jennifer Dudley
In Lake Expo, 17 web ad-sized images featured people from around the world gathered at a lake straddling the Missouri and Arkansas state line, stripped themselves of cultural differences and performed a synchronized international exposition. These images replaced advertising on websites for two weeks for the thousands of people who use Add-Art's FireFox ad-blocker add-on.
>Collaboration with Ryan Thayer for Developer, Homesteader, curated by Jennifer Dudley in coordination with ADD-Art.
---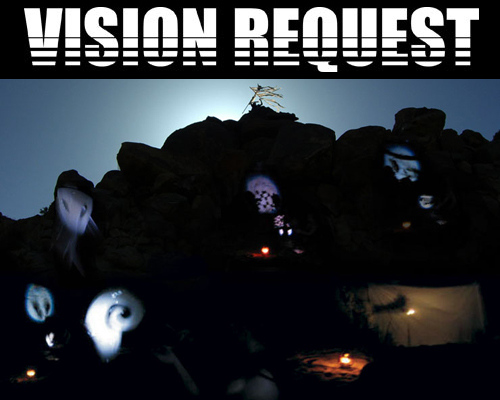 Vision Request was an exhibition and collaborative performance hosted by Andrea Zittel and organized by Jennifer Dudley, Sarrita Hunn, and Ben Kinsley. Vision Request took place on Saturday, May 19th, 2007 at A-Z West in Joshua Tree, CA. During this one day event, works made by individual artists were on view, culminating in the performance of a Play of Light and Shadow at twilight.
The exhibition included a desert monad, an in-ground tea ceremony, an anthropomorphic billboard, a miniature railroad through the West, a burying place for all strangers, a Super 8 projection, and the remains of something truly horrific. These individual projects, and many others, were accompanied by the collaborative work of all the Vision Request artists, the Play of Light and Shadow. A natural rock amphitheater illuminated by flashlights set the stage for the play and the narrative took a séance as its point of departure.
>Co-organized with Jennifer Dudley and Ben Kinsley.
---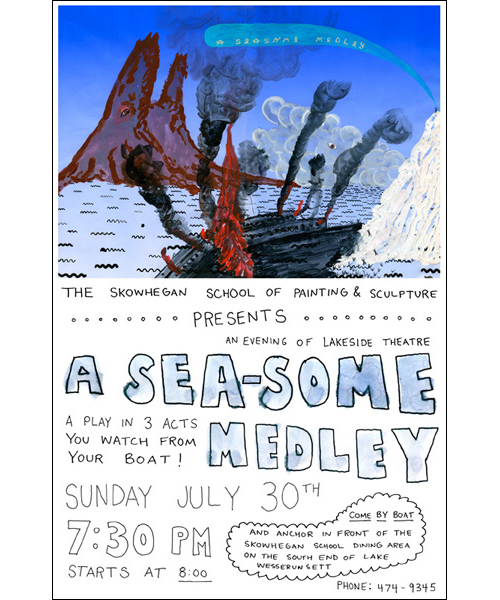 A SEA-SOME MEDLEY was a play in 3 acts performed by the 2006 participants of the Skowhegan School of Painting and Sculpture, in Skowhegan, Maine. It was a medley of 4 classic maritime tales (Moby Dick, Titanic, The Odyssey & Apocalypse Now) performed on Lake Wesserunsett to viewers who watched from boats. The cast included a shipwrecked narrator, Ishmael, Leonardo DiCaprio, Odysseus, Marlon Brando, a drunken sailor, Peter Coffin, Captain Ahab, a harpoon, Dennis Hopper, Queequeg, a figurehead, Kate Winslet and her mother, the FCC, the Goddess Athena, Telemachus, Penelope, a boom man, a Greek Chorus of flaming and waving sailors, a bow and arrow, Moby Dick, an iceberg, and several libidinous suitors.
>Co-organized with Katie Creyts, Jennifer Dudley, Ben Kinsley and Alex Singh.
---

Echo de Pensees Sound Series in conjunction with The Museum of Viral Memory presents, 23 Years of Hernia Milk and Ergot Dreams, the first ever opportunity to see the internationally recognized band Caroliner's extensive ephemera collected in one place! For Hernia Milk and Ergot Dreams concerned folks dug through the group's checkered past and black-light warehouse to choose the cream of the crop of 23 years of Caroliner props, costumes, instruments, records, books, flyers and assorted other detritus, exposing Caroliner's tragic trail of tears through the American dream and across the world.
>Co-curated with Marcella Faustini and The Museum of Viral Memory.
---

Proclaiming painting's simultaneous death and triumph actually speaks more to its inherent self-awareness, if not flat-out self-criticality, and consequential continuous reinvention. Snap, Crackle, Pop engages the idea that there is something specific about painting that is related to, but no longer framed purely by its materiality. These artists present a range of those possibilities, pushing both materially and conceptually what can be considered as painting. Artists: Stacey Beach, Susan Chen, James Chronister, Sally Elesby, Linda Geary, Jennifer Mattson, Carol Anne McChrystal, Mitzi Pederson, Dan Reneau, Laurel Voss and Liz Walsh. Limited edition catalog with essays by Michael Bianco, Zoe Taleporos and Nancy Zastudil.